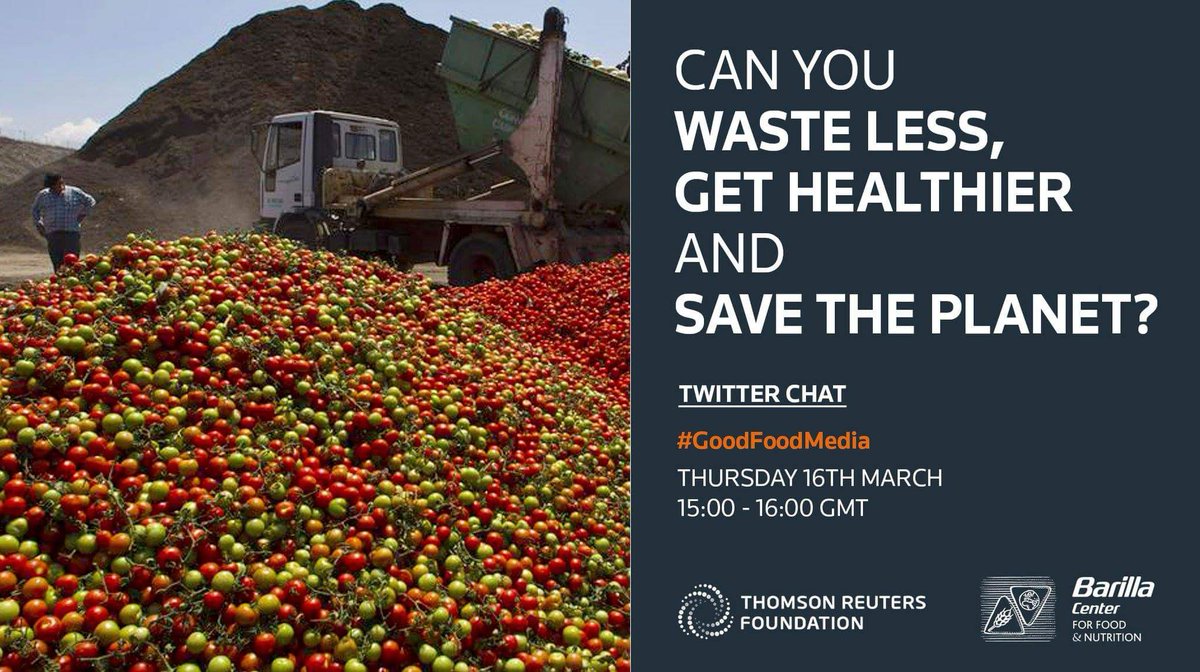 You are invited to join the Thomson Reuters Foundation and Barilla Center for Food and Nutrition twitter chat on Thursday 16 March at 15:00! Topic of the chat is: Can you waste less, get healthier and save the planet? #GoodFoodMedia. The chat aims to inform a wide audience about how food waste fits into the global agenda. Below are a couple of points, tips and tricks ahead of the chat.
Checklist:
Please add panellist handles ahead of the chat in case you would like to follow up on any
points they make
If you would like to see what other people are contributing to the chat, please have
another panel or screen with #GoodFoodMedia search up. This is the hashtag we will
use for the chat.
Panellists:
Laurie Goering [moderator], Climate Editor from Thomson Reuters Foundation @TR_Foundation
Jennyfer Pileggi from BCFN @BarillaCFN
Alexandra Spinelli from FAO @FAOKnowledge
Danielle Nierenberg from Food Tank @FoodTank @DaniNierenberg
Jonathan Bloom from WastedFood.com @WastedFood
Brian Lipinski from World Resources Institute (Food Program) @BLipinskiWRI [@worldresources]
David Katz from Yale University Prevention Research Centre @DrDavidKatz
Krishna Rao from IWMI, CGIGAR @IWMI_
Timings:
3.00 pm: Welcome to all our panelists, and to those joining us live from around the
world
3.02 pm: Panelists, please introduce yourself [describe your org in a tweet]
3.04 pm: Thanks to everyone else joining us – feel free to introduce yourself too
3.06 pm: Introduction to the chat and the issues we'll look at; mention of the Food
Sustainability award
3.12 pm: Q1 – How does food waste impact the environment? Why is dealing with it
important?
3.17 pm: Q2 - What everyday changes can we make in how we eat to improve our
health and save the planet?
3.22 pm: Q3 – How does food waste differ in poorer and richer countries? What can
farmers, chefs and the global food chain itself do to solve the problem of food waste?
3.27 pm: Q4 - Are there any interesting models to tackle food waste in cities, on farms
and the places in between?
3.32 pm: Q5 – What are possible innovative ways of cutting food waste you think need
more attention?
3.37 pm: discussion points from the chat and further questions
3.54 pm: wrap up and thanks from panelists
4.00 pm: ends
[Please note: these timings are subject to change. If there is powerful engagement on specific
questions the chat, the moderator may decide to pose a follow up question.]
Tips:
The moderator will pose all questions with 'Q1' 'Q2' etc at the beginning, please start your answer with 'A1' 'A2'
To maximise your responses during the chat, could you provide links to resources on your website or a recent news article – have a couple of these already identified before the chat to save time
Feel free to send more than one tweet per answer!
You can also pose your own question. If you find someone has picked up on something you said, you can respond to them directly or direct the question to @TR_Foundation
Ask others in your organisation to engage on their personal accounts – when users see a  range of handles, not just those of organisations, they may be more inclined to take part
Please include #GoodFoodMedia in each tweet [have this posted on a note pad/ word doc so it's easy to copy and paste]
Would you like the audience to take action? Think about how you would like to sign off the chat, e.g. "Thank you, for more info visit www.trust.org"
For any further information, please contact Mel Paramasivan at mel.paramasivan@thomsonreuters.com
Picture credit: Thomson Reuters Foundation and Barilla Center for Food and Nutrition
This guideline for twitterchat on #foodwaste on 16 March 2017 was published by Thomson Reuters Foundation and Barilla Center for Food and Nutrition